Like I promised before, I bought a copy of Dimitry Grinbergs "PowerDrive" two days ago.
Powerdrive allows (among other things) usage of any CF Card instead of the internal Microdrive.
The first part is fairly simple: Put PowerDrive on a SD Card and start the application. PowerDrive will then patch the OS on the Microdrive and will then copy the operating system to the SD card.
Now we come to the tricky part: PowerDrive will power down the Microdrive and you have to exchange it with the CF Card – while the LifeDrive ist switched on! (Don't use any metal tools to pry the Microdrive loose…). After that is done, PowerDrive will repatition the CF Card and write the OS ono it. At this point you are given the option to change the size of the memory-portion used as "RAM" – everything between 16KB and 4GB is safe.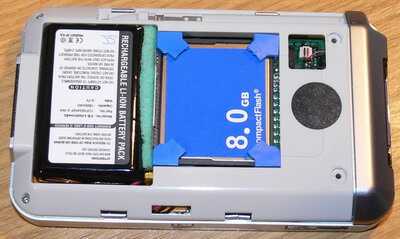 Twice the memory of an ordinary LD (Hands still shaking)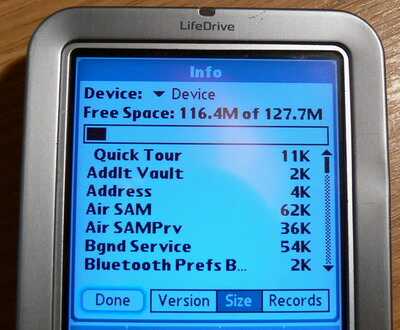 128 MB internal memory – big enough for me
I can't show you the size of the internal drive since PalmOS refuses to display the size of drives > 4GB properly. But since I filled my LD with 7,5GB of pictures, videos and mp3s it really works as advertised.
Next thing to talk about is speed: According to VFSMark my CF Card is more then three times faster than the old Microdrive! This won't make the LD as snappy as a TX – there's still some lag when you start a big application – but you can hardly notice it (TCPMP needs less than 1 second to load its 2.1MB into the real Ram). The remaining lag might be the result of the LD still powering down the drive. That's a great way to conserve energy when you still use the Microdrive – with a CF Card installed, this should be obsolete. Maybe Dmitry can fix this in a future version.
What's left is a long-term test of the power consumption after the surgery. Since CF Cards draw a lot less power than a Microdrive, I expect a huge increase in running time.
My conclusion so far: 16 bucks (about 10 Euros, if you live in Europe) that are worth every single penny. Just imagine the money you save on cheap CF Cards (you can get the 32GB Card from Adata for around $150).
After my tests with the small Card are done, I'll switch to a 32GB Adata